Just done watching Korean drama
<
来自星星的你
My Love from the star>
and I am finally willing to do some work. Yes I was pretty late, I always watch a show while everyone have stopped discussing about it. Like one of the hot drama
<步步惊心>
I knew it ended long time ago, I always wanted to watch, but I was too lazy to search for the source of where to watch. Besides Hong Kong TVB drama, I actually rarely watch any other drama.
I remember my last Korean drama was
<妻子的诱惑>
I was actually attracted by the story line of how the wife get to stand up again, and fight back her ex husband, I think I like this kind of story line.
Actually, I don't think the husband she wants to revenge was a handsome guy, even his character is truly a jerk and useless man, putting time on this kind of person is such a waste, but if she didn't do so, then there's no such drama. However, I think this drama is very draggy...70++episode...oh god...I often skip when I watch, I couldn't stand it, I somehow stopped a few times and continue later on, and I continue is just because I want to finish the show.
There's two person I always felt like laughing when I watch this drama, first was her godmother she meet later on, look like my aunt! So much resemblance.
Then is the bitch in the drama...I am so sorry to say this but she is the bitch in the drama...and she looks like my cousin....hahahaha
*please don't kill me if you saw this ok?*
p/s: I must clarify my cousin's characteristic is the opposite of this lady in the drama.
I somehow think those idol drama are almost the same, actually they are. But I feel interested to know why is this
<
来自星星的你
My Love from the star>
so famous and hot, I saw there is this girl broke up with her boyfriend after watching this drama, because she feels her boyfriend wasn't romantic as
Du-Min-Jun
, and also because her boyfriend refuse to buy her fried chicken and beer...LOL this is so ridiculous!
Oh well, my classmates are also discussing about this drama in our Facebook group, and news about this drama is all over the Facebook. I asked them about the source for watching this drama, I decided to watch this inconceivable drama, to find out why.
I started last week, the first few episode I keep thinking there's nothing special, but I keep telling myself, don't judge so quickly. I think the ending will not be a bad one due to the response of people during its last episode. People sure will complain if it is a bad one.
I watched until episode 9, I started realize that the scariness of villain, is that 'thing' that is keeping this drama interesting. If it wasn't him, I guess this will become a truly Love story drama, will be kind of boring. Because he keeps on trying to kill
Cheon-Song-Yi
and make
Du-Min-Jun
the hero. Which girl doesn't like a guy like
Du-Min-Jun
protecting theurselves. Anyway this guy really suits this villain role! When he just come out with a good guy's image, I keep thinking his face...look so...bad guy one...? but the doubts are answered after they started showing his true face.
I am not a Kpop fans, I don't really know about their true name, maybe roughly know about the main actress for this drama. I think the main actor wasn't that handsome if he didn't act cool in this drama, I think his coolness is the main thing that attract people. I find he looks cute anyway, Mr Tang says his neck looks long haha.
Anyway, I wasn't that rush for finishing this drama until....
My colleague tempting me to know the ending!!
So I finish it on the weekend, from episode 9 to 21! I am done! I feel released lol.
Because there's no more reason I will give myself for not doing work after I finish this :D
If you ask me is this drama nice, I would say compare to the previous one, this is a lot better. Although the last second episode is quite draggy la, but overall good controlling of up and downs.
One of my favorite scene. I think this scene is really romantic, it melts my heart a bit.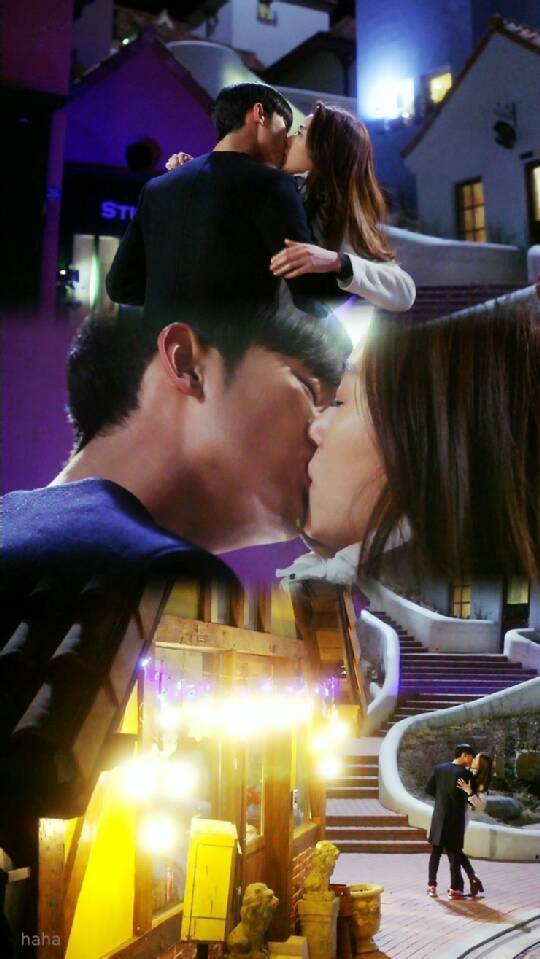 I kinda like the song, every time when this story started, the sad feeling is so much stronger.
To me, a guy like
Du-Min-Jun
is most of girl's dream man. It is sad that the ending turn out, he has become some kind of time traveler. Because we know that he loves her so much,
Cheon-Song-Yi
.
Rate : 7/10
*disclaimer: www.sannyshan.com claims no credit for any images or videos posted on this blog post unless otherwise stated. Images/videos on this blog post are copyright to its respectful owners. If there is an image/videos appearing on this blog post that belongs to you and do not wish for it appear on this site, please e-mail with a link to said image/video and it will be promptly removed.